Battery Charging Cable
KLNAir Power Bank
KLNAir Purifier
Replaceable Filters (5 sets)
Cloth Mask
KLNAir Controller Cable
Metal Nose-Piece (5 sets)
Connect the supplied Battery Charging Cable to a power source (such as a computer or power outlet) and the other end to the Charging Port on the KLNAir Power Bank.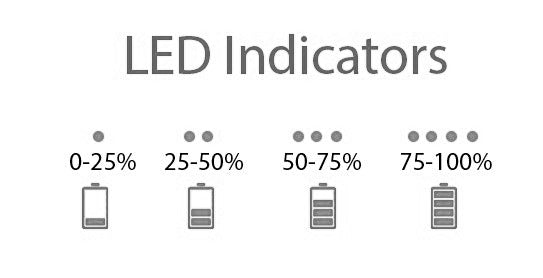 The four LEDs indicate the charging progress. Once the power bank is fully charged, all four LEDs will fully illuminate. A full charging cycle takes about 6-7 hours, depending on the chosen power source (e.g. 5V/2A power charger)
The small button on the side of the device can be pressed to check the current battery status.
1 LED illuminates: Battery has 25% capacity.
2 LEDs illuminate: Battery has 50% capacity.
3 LEDs illuminate : Battery has 75% capacity.
4 LEDs illuminate : Battery has 100% (full) capacity.
PLACING THE FILTER INTO THE PURIFIER
+
-
Ensure the purifier is powered off. Do not install or replace the filter while the purifier is running.
Remove the filter cover from the purifier by twisting counterclockwise.
Wash hands before contacting or replacing the filter. Inspect the filter to ensure it is intact with no tears, punctures, distortion or other damage. Place a new clean filter into the purifier as show ensuring the filter is seated under the tabs of the purifier.
Place the filter cover onto the purifier and twist clockwise to lock the filter in place
INSERTING THE KLNAIR PURIFIER INTO THE MASK
+
-
Place the purifier into the hole of the mask with the filter opening side facing the outer side of the mask Be careful stretching the mask opening around the groove in the purifier as it can tear the mask
Rotate the purifier so the outlet is facing upwards toward the top of the mask
Inserting the adjustable nose band into the mask
+
-
Open the mask with the inner layer exposed. On the top left side of the mask is a open slit in the mask
The Metal Nose-Piece is placed into the slit and pushed to the middle of the mask.
Adjust the Metal Nose-Piece to the shape of your nose.
Connecting the controller cable
+
-
Place the micro USB end of the KLNAir Controller Cable through the hole in the bottom of the cloth mask
Connect the micro USB end of the KLN Air Controller Cable into the USB port on the KLNAir Purifier
Place the mask on your face with the elastic bands over your ears. The filter side of the purifier should face outwards as shown in the image
Adjust the toggles on the ear straps so the mask is tight against the face
Turn on the mask with the KLNAir Controller Cable. The air output level is illuminated on the controller.